In an hour we're going to go look at a house and I'm pretty nervous about it all. The reasons are pretty irrational but I'm still nervous. I have to meet someone new, maybe get to stared at by the current neighbors, and apparently the place were looking at is kind of a rental property so there's tenants. If we buy this house these people will be paying us to live there. That's a terrifying thought. In fact the guy, Jorge, that we talked to seemed confused as to why we were interested in it. He asked me if it was for "an investment" to which I replied, "Uh, we're just looking to buy a house to live in." Whatever. We can live in 2/3 of the house and maybe rent the other part out. That's a smart move, right? It'll be stressful evicting two of the other people/families though. My anxiety just increased quite a bit…
And then there's the debt. I have a strong aversion to debt that is justifiable but also not. I was terrified to take out a $12,000 loan to buy a car, so the prospect of going $100,000 in debt for decades is…eh! I think my views on debt differ from about 80% of the general US population but I have no data to back that up with. People seem to love debt! Credit card debt, student loan debt, personal loan debt, auto debt, mortgage debt, payday loan debt, medical debt, and so on. I also have the suspicion that people don't know how debt actually works. There's this little thing called "interest" that you also have to pay with debt and owing money is always a net loss compared to just paying up-front in cash. To me debt is a tool to be used sparingly when you need to buy something that you need but can't afford in cash.
A good example here: a coworker just quit his job to move to Arizona. He bought a quarter-million dollar house and this guy, sorry for the blatant stereotyping, doesn't seem to be the type of person that should be buying a quarter-million dollar home. Maybe he's loaded with cash, but probably not. My other coworkers/friends have the suspicion that this guy doesn't know how interest works. In his head he can probably pay off the home in 10 years; after all $250,000/$25,000 is ten, right? We also joked that he probably isn't aware of a thing called "property tax" and will try to sue the State of Arizona for plopping a yearly $15,000 charge to his yearly payments. He probably also has like a 50-year mortgage and being in his 50s will be dead before the place is paid for, but rambling story aside, this guy probably doesn't know how money works.
I think my aversion to debt comes from my parents. They were/are terrible with money and I learned how not to be like them at a very young age. My mom and dad used to have vivid and violent arguments about money as my sister and I were growing up. It always seemed we were living on the edge, just barely making it with zero margin for error. Any unexpected expense that came up could derail the entire family's security. Worst of all, whenever any extra money did appear (like in the form or a tax return or stimmy check) it would somehow be instantly pissed away and we'd be back to living on the risky edge of poverty again. Like, shit, save some money so you guys aren't stressed and arguing all the damn time. It makes so much sense in my head that other people not seeing it my way just does not compute. Like at all.
They're still bad with money. My dad's car has a stuck thermostat and instead of borrowing the $90 from me (at zero percent interest!) from me to fix it, he's going to buy coolant at $20 a bottle until his stimmy check comes in. He's getting his mailed so this could be quite a long time and while he waits…cash losses towards coolant. My mom still itemizes all of her expenses to me whenever we talk. It's always a woe-is-me story about how she doesn't make that much and how many bills she has. That fatalistic view where she doesn't have any say in the direction of her life or anything; she's just a passenger along for the ride. What happens, happens, and what else can she do other than float along?
That wasn't to be a woe is me story by the way. I'm just stressing that I'm so goddamn good with money and terrified of debt because my parents are so damn bad with money that I have zero ability to not be this way. And goddamn am I thankful for it. I'm a cheap and greedy bastard who hates to owe anyone anything and find I can never have enough cash on to ever make me feel safe. As if some $40,000 emergency expense will somehow appear out of the ether and ruin my life. All of our cars could instantly blow up and it wouldn't cost near that much money to cover. Despite having more cash than would ever be needed I still feel I must hoard it.
This is turning into quite the rant about money, isn't it? It's about time to go look at that house, so let's see how that goes. Maybe I'll write about that later.
***
Well, it's a hell of a lot later and while I was thinking of tossing this proto-post straight into the trash I'll allow it to live on. I'm having a six-pack of White Claws as a "celebration" to our failed endeavor: the house is trash, the search continues, and life as I know it is still as boring and mundane as it has been for the past few years. We're still stuck living at my mother-in-laws home and I'm surprised I haven't bitched about that entire situation yet on this blog. It's a mess, and that's all I'll write about it at this time.
(Hint: The entire 'writing-desk situation' is partially due to my mother-in-law dictating the shit out of her house to where I never have a spot to properly "set up shop." My shit is constantly being moved, relocated, and lost so it's hard to gain my bearings and just, ya know, sit down and fucking write.)
The house was nice, but also a dump. I mentioned that it had "three rentable units" and this was true to some degree. Two of the units were being rented at a whopping $900 and $1,500 a month and at first all I saw was dollar signs. Shit, $2,400 a month just from the tenants? Damn. Free money! As for the third? Nope, non-existent. It was a bombed-out, currently-being-renovated mess with no walls, no working plumbing or water, with wooden trim boards and linoleum strew all about the floor. It would cost a small fortune to fix up, and while I'm a DIYer at heart this was well above my skill level. I felt like Gandalf warning the others of the Balrog…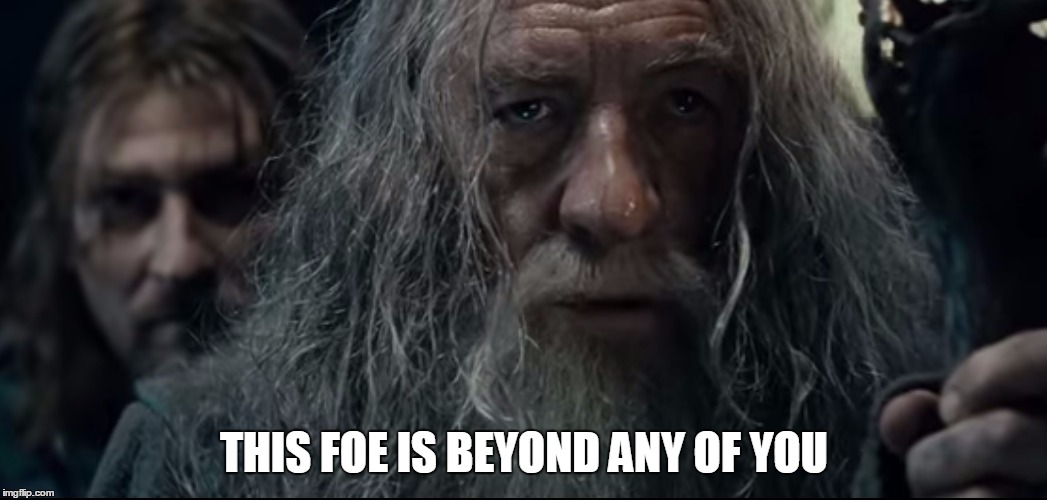 The tenants didn't have anything good to say either. "There is no heat," one lady said, "so we're using space heaters." The other guy said they had to move to a hotel when the temperatures became sub-zero and even lawyered-up to get the landlord to pay for the costs. There was also an impressive amount of the same model of space heater located in each of the rental units; the landlord had to buy them for the tenants due to the lack of heat in the building. Holy fuck, this guy was buying space heaters to keep the renters warm? And since the electric bill is on one meter, he had to pay the entire thing, apparently passing on the costs via the rent to the tenants. As someone who wants to eventually solar power his entire house I'm totally against any form of electric heating. It's expensive. It's inefficient. It's bulky and it's awkward from a Second Law of Thermodynamics perspective. Just burn natural gas for heating and even my "let's protect the world from climate change" self knows this is a smart move.
The basement had signs of flooding with no sign of any building-wide heating. No pipes, no old furnace, nothing. So…what was there to be done if you did buy the place? Fuck if I knew; there were no easy and obvious solution to the heating problem. Hilariously enough, space heater boxes littered the floor of the basement and I had the image of the landlord, someone who stumbled into a disaster of property management, desperately buying 30 space heaters from Amazon to stop from being sued by the tenants. The same model of course: just smash the "quantity" button until they'd cease threating to sue your ass. What a guy. What an unsung hero. i really wanted to meet the guy just to be like, "Bro, what did you get yourself into here? Jesus Christ…"
So let me pour out a beer White Claw for what could've been, what I was so anxious about. Was I about to own a house? Was I about to have people paying me for rent? Was I about to be a real adult and own property? No, apparently not. But it was a good first step. We actually talked to someone and viewed a house. A disaster, sure, but a house none-the-less. I suppose this day was one of the days that slowly breaks down your barriers and insecurities and makes the next opportunity easier to seize when it does arise. And I suppose it's some small success that even I, someone with no landlord or property holding experience, could see that this place was a disaster. A place to dump endless cash into trying to make it work. Trying to make the margins just high enough to be positive. A place you want to save but you just can't. It's a shame. The house is nice enough but damn are there problems.
The other reason for celebrating tonight is that I raked in $4,500 this week in the stock market. Not that I can dump that into our soon-to-be future home, but it's a success none-the-less and is worthy of celebration. Let's have a drink for the following week and hopefully I make lots of tendies because I sure won't be owning a house in the near future. Here we go guys…
Check out my YouTube channel about off-grid green energy setups!
Or my Instagram where I post pointless artistic pics and shitty poems every whenever I get around to it.
Or my other blog where I sometimes post stories.