I'm back. A two day break is long enough after you've posted 34 days in a row. I've been bored, antsy and playing more video games, namely Dark Souls. More on being bored and antsy later. Maybe.
I seemed to have been in a honeymoon phase with Dark Souls during the last post about it. Not that it isn't a fantastic game — I stand by every word I said about it — but now that I'm actually playing the game all the old frustrations are coming back. The game is bullshit, and in a way that's totally bullshit. I still think this is a positive though; the fact that a game I know pretty damn well can still piss me the fuck off is amazing. I think I've beaten the game ten times total and I can still get pissed off about things I know are in the game. Let's cover a few here.
Spoilers ahead if you dare to read.
Bullshit Lautrec of Carim
There's a knight locked in the Undead Parish early on in the game. With a key (maybe) you can free him. There isn't anything obviously wrong with the guy at first besides his mildly threatening voice, but there is nothing to hint that you shouldn't free the bastard either. You also come across various trainers in the game, Big Hat Logan to name an example, that are locked up as well. The fact Lautrec is locked up doesn't really mean shit in the Dark Souls world.
So you free the bastard and after triggering a certain important even he kills the Firelink Shrine's fire keeper putting the bonfire out. This is before you gain the ability to teleport and Firelink serves as a good hub for the world except now you can't use it as a checkpoint anymore. So you must walk to the Undead Parish, the Undead Burg, or the fucking Catacombs to use their bonfires. It's a pain and a pain that the game barely hints at and it happens at a very inconvenient time.
Not that you can get the bonfire lit again, but it's a massive pain. Lautrec goes to Anor Londo where you can invade him, get the firekeeper's soul back, and relight the fire. It sounds bad already but everything about it makes it worse. When you invade, you discover Lautrec has two goons with him and one is a sorcerer who tosses soul spears at you from a distance. Also when you invade you are unable to heal. Yes, you need to kill Lautrec with two fucking goons fucking your day up when a few hits is all that it takes you kill you. I tried this recently on New Game Plus with an old tank character; I only got a single hit on the guy before I was killed. This was Sunday when I was drunk and totally threw the controller twice and quit playing that character since. Fuck that playthrough.
The Four Fucking Kings
After my anger over Lautrec, I decided to get the dark ending and talk to Kaathe, one of the primordial serpents. No big deal, it was NG+ and I was a tank and I could summon Witch Beatrice (my Souls wiafu) to help. I was surprised to see that my fully upgraded Black Knight Axe didn't do a fucking thing to the Kings. The bosses spawn in every thirty seconds so if you can't kill one in that amount of time (or an little extra time) you'll eventually have for or five kings wailing on you. They also hit really fucking hard too. Three hits and you're dead. Witch Beatrice didn't help much because I died so quickly.
So to hell with the dark ending on that playthrough.
More Fuck The Four Kings
I thought it'd be a fun idea to start a new playthrough with a hand-to-hand based player. I'm currently running a shitty DEX build with NEARLY FULLY UPGRADED CLAWS. It's fun as fuck and I'm having a great time. Once again I tried to fight the Four Kings before the other three Big Bosses. (You can't go through the red fog gates until you give the lordvessel to either Frampt or Kaathe.) The claws didn't do shit to them and like before I quickly had three of the fuckers wailing on me before I died. Beatrice didn't even get to fight because I was running from a horde of Darkwraiths and Ghosts and couldn't summon her. I didn't have any of those transient curses either. 
Frampt got the lord vessel and there wouldn't be a dark ending on this game either. Seriously, fuck the Four Kings. I don't remember the boss being this hard on other playthroughs.
Solaire and Farming
This is going to be a mess so bear with me here. Solaire of Astora is everyone's favorite Dark Souls NPC. He's cheerful, he's helpful, and he even muses himself that you might have feelings for him. Given the rest of the dreary, bleak, and depressing NPCs in Dark Souls, Solaire really is a ray of sunlight (get it?). "Praise the Sun!" "If only I could be so grossly incandescent!" Even if you're not the biggest fan of Solaire, you probably do have some fondness for him because he's such a nice guy.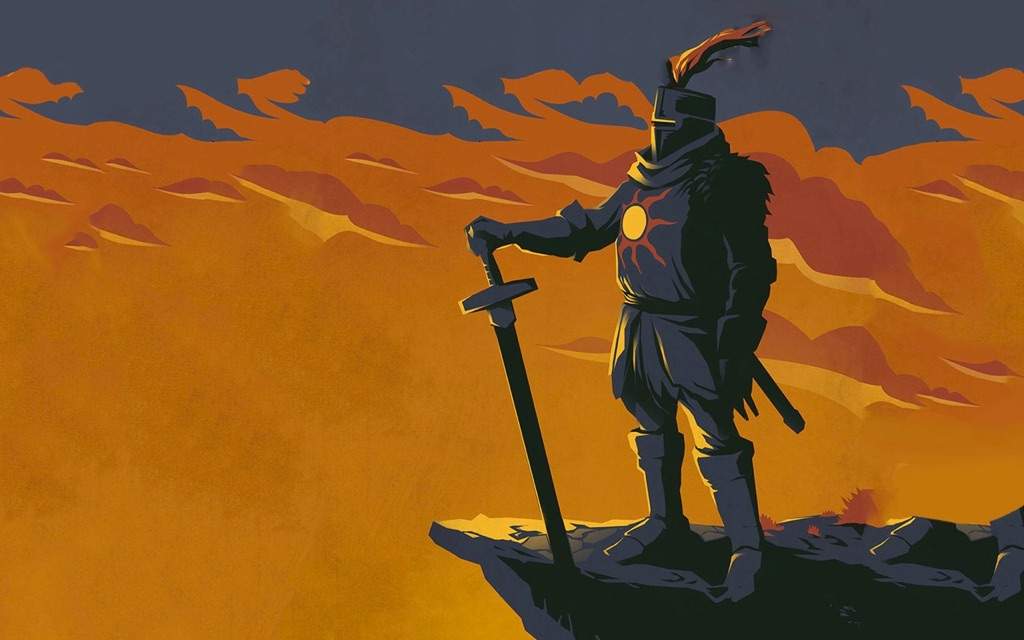 One thing that makes Solaire such a badass is your ability to summon him for some key boss fights in the game. The first time you can summon him is for the Bell Gargoyles and as this fight can be difficult for a new character/new player; Solaire really is a godsend here. He's also summonable for the shitty Centipede Demon and the final boss, Gwyn. The only problem with summoning him for the Gwyn fight is that you first need to stop him from going fucking insane!
Most (maybe all?) of the NPCs have a questline that ends with them going "hollow" — insane, corrupted, and hostile towards you. Nice and friendly people you meet eventually lose their damn minds where they will attack you the next time you come near them. Solaire is no different. He's famously on a quest to "find his own sun" and given his failure to find it during the game, eventually goes mad. His downfall is finding a group of Chaos Bugs that emit light. Since he's lost his shit, he finds these bugs, mistakes them for "his sun", and goes crazy. You end up putting him down like the sick dog he is and this prevents him from helping you during the last fight. It's a really bleak game.
Here's the bullshit part. To keep Solaire alive you need to kill these bugs before he finds them. You can't take the normal route because this automatically triggers him to go crazy so you must find a "backpath" way to kill them. A few cheesy ways to do this are to abuse a certain pyromancy spell or some other shitty game mechanic while the most "appropriate way" is to open a shortcut door via the Chaos Servant covenant. In short, you donate thirty humanities (a certain in-game item) to a giant half-spider, half-lady NPC and the door opens.
My problem was that I didn't have shit for humanities. I need twenty-nine of them to open the door with the sole purpose of saving Solaire. Okay. Time to farm!
Farming in any game usually consists of doing mindless runs over and over to collect items. To farm humanity, people usually go to The Depths and kill about ten rats over and over again; these are some the most reliable droppers of humanity in the game. This isn't as easy as it sounds as their drop rate is only about 5%. So to get five humanities you need to kill about 100 damn rats. I needed thirty so consider the fact that I'd have to kill about 600 of them. With ten per each run, this means I'd have to do 60 fucking runs to collect the humanities to give to the Spider Lady to open a door to save Solaire. Okay…
Luckily there is an item that boosts your item discovery rate making the rats have a higher chance of dropping humanity; this is the Covetous Gold Serpent Ring and is found in Sen's Fortress. So, to save Solaire: go to Sen's fortress, find Gold Serpent Ring, go to The Depths, do maybe fifty runs killing rats to collect humanities, give humanities to Spider Lady, open the shortcut ("shortcut") door, kill the Chaos Bugs. All so I can summon Sunbro Solaire for the final boss fight with Gwyn. I hope that proved my point how shitty this game can be.
Not that I hate farming — sometimes it's fun to mindlessly run back and forth killing the same enemies over and over — but damn does it quickly get boring. After about ten or twenty minutes farming and having only collected a few humanities, you start to think about how much time the project is really going to take. I think it took around and hour to collect thirty-five or fourty humanities (I needed a few extra to upgrade the bonfires) and I might have to go farm some more soon. Shit. And humanities aren't the only thing you need to farm. Titanite shards and chunks, which are used to upgrade weapons and armor, are also relatively rare in-game so if you want to actually do damage with your weapon those must be farmed as well. And if you ever get stuck you need to farm for levels, also called "grinding", which is another shitty but sometimes necessary thing to spend time doing.
That's about all I have to bitch about with Dark Souls this time. Like I said: great goddamn game, but holy hell is it frustrating at times.
Fuck the Four Kings.